In stock
Martini 3-Prong Stud Earrings
---
Surrounded by brilliance, this martini style stud earrings features perfectly matched pair with a breathtaking look that is sure to garner attention, while the three prong accentuate the diamonds of your choise. Our master jeweller used his personal touch to bring out the true spark of the piece, this earring floats perfectly on the ear.
Martini 3-Prong Stud Earrings
INCLUDED WITH PURCHASE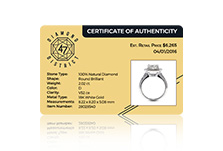 CERTIFICATE

OF AUTHENTICITY
ABOUT THE DESIGNER
Our Diamond District fine jewelry is an exceptional collection crafted by
industry-leading designers and inspired by their years of experience and
personal reflection. Defined by Blue Nile's classic style,with the highest
regard to quality, this is everyday elegance at its finest.